Stewed Beef
Posted Aug. 28, 2022 by reliq
Stewed Beef (simply put; Stew Beef) is loved in Jamaica. Whether served with rice or ground provision you cannot go wrong.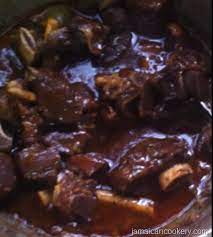 Ingredients
2 lbs beef (cut up in bite size)

4 sprigs thyme

1 medium onion (chopped)

1 teaspoon salt

2 oz cooking oil

1 tomato (chopped)

1 teaspoon black pepper

2 oz soy sauce

¼ teaspoon brown sugar

1 clove garlic

1 oz vinegar

2 oz tomato ketchup

1 Irish potato (cut into 8 pieces)

1 carrot (sliced lengthwise into 4 pieces)

Water
Method
Wash beef in cold water and vinegar for about 1 minute.

Add all ingredients together with meat in a cooking bowl, except cooking oil, potato, carrot, and ketchup.

Rub in seasonings for about another 2 minutes or so.

Remove the seasonings from the beef using a fork.

Leave the seasonings in the same cooking bowl that you originally had the meat in. A little soy sauce left in the bowl too.

Heat the cooking oil on high in a skillet until the oil is hot.

Turn down the fire to medium. Add the meat to the oil, a couple pieces at a time. Brown the meat at this point.

Add all the meat to the skillet, use a fork to turn over the pieces when they are "brown"; not burnt.

Add 4oz. of water to the beef and allow the meat to cook until it is tender. Repeat this process several times before this happens because the water will evaporate.

When the meat is tender add all the other ingredients with about 6 oz. water to the skillet.

Cover the skillet and reduce the heat a little bit, and let this stew cook for another 12 minutes.
Originally posted on jamaicanpass.com. (discontinued)