Jerked Chicken
Posted Aug. 28, 2022 by reliq
Jerked Chicken (simply put; Jerk Chicken) is a delicious Jamaican dish enjoyed all year round. Make your own with this delicious recipe!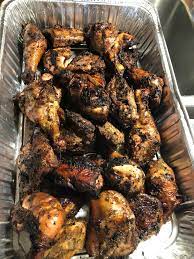 Ingredients
3½ lb chicken
6 sliced scotch bonnet peppers [or jalapenos]
2 tablespoons thyme
2 tablespoons ground allspice
8 cloves garlic (chopped finely)
3 medium onions (chopped finely)
2 tablespoons dark brown sugar
2 teaspoons ground black pepper
1 teaspoon salt
1 teaspoon ground cinnamon, to taste
1 teaspoon nutmeg, to taste
1 teaspoon ginger, to taste
½ cup olive oil
½ cup soy sauce
1 cup orange juice
1 cup white vinegar
1 tablespoon lime or lemon juice
Method
Chop the onions, garlic and peppers. No need to chop too fine because they will be liquidized by the blender.
Blend all the ingredients, EXCEPT THE CHICKEN, in a blender to make the jerk sauce.
Cut the chicken in to four quarters.
Rub the sauce all over the chicken. Save some for basting and dipping later.
Leave the sauced chicken in the fridge to marinate overnight.
Bake in the oven (at 380 degrees F) for 30 minutes, then turn the chicken and bake for another 30 minutes – until cooked and desired baked/brown color achieved or Grill the chicken slowly until cooked, turning regularly.
Baste with some of the remaining marinade while cooking.
For best results, cook over a charcoal barbeque. Preferably over a rack of pimento wood).
Serving
Chop each quarter chicken into 5 or 6 smaller pieces using heavy cleaver.
Use a wooden spoon (or similar utensil) to hold the chicken in place whilst chopping and NOT YOUR HAND as you will be chopping with a lot of pressure to cut through the bone.
Originally posted on jamaicanpass.com. (discontinued)